I'm a bzzagent! Don't know what that is? I didn't either till a few months ago. It's a consumer's social marketing dream, if you love trying stuff out and telling people about it. And it's free to sign up, and free to participate, and you get free stuff, so… what's not to love?
I was sent the COVERGIRL & Olay Tone Rehab 2-in-1 and Pressed Powder to review and give my opinion on. And so I will.
Honestly, I haven't used CG cosmetics in quite some time. When I was in high school, I did, because they were inexpensive and readily available. Unfortunately, I must've been allergic to something at least in their lipsticks, because whenever I wore them, my lips – and the skin around them – would turn bright pink, no matter what color I'd applied (I seem to remember being enthralled with an ice blue one? Why? WHY, 1990s, WHY?). So needless to say, I haven't really tried anything from them in a long time.
Well, they've upped the ante a bit from when I was shopping at F&M and RiteAid for all my cosmetics. Now teaming up with Olay to make moisturizing, rejuvenating, age-defying cosmetics, COVERGIRL is a brand I'd feel comfortable purchasing again, as an adult. I've been wearing the Tone Rehab 2-in-1 (which blends foundation and a hydrating serum) and the Pressed Powder for the past few weeks, and I love them. Not a bad thing to report about either one. The 2-in-1, which I think is pretty close to a BB cream, is creamy and dreamy – spreads on nicely, blends evenly, and does a bit of overtime to cover up any blemishes – of which I have a few. The first week I tried this, I had a few random dots and blots and other blemishes, and I didn't even end up needing any concealer to help out the foundation. One pump was sufficient to cover my whole face. The pressed powder also applies silky smooth and doesn't feel caked on, even when I use the included "puff" (I prefer using a big fat kabuki brush for powders, but I've been using the flat pad that came with it)
My face felt soft, smooth, and evenly covered all day, every day that I've used it. To be fair, I don't use it every day, because some days I just feel like I will be super sweaty and gross, so why bother? So I haven't noted any long-term effects from using it, other than my skin does feel more thoroughly moisturized than it did before. As far as taking care of fine lines and wrinkles, well, the ones I have are pretty much a direct result of me being a pregnant insomniac, so I'm not sure those are eligible for kicking out!
I definitely did like this product, as much as the Rimmel foundation and powder I was previously using. It is a bit more expensive, so I'm not sure I'd purchase regularly, but I do have some bzzagent coupons, and with a good sale or gift-with-purchase at Ulta, it'd be worth trying out some more!
And now for the pics!
(forgive my fresh-outta-the-shower face, as well as my regular face – and my big Polish nose)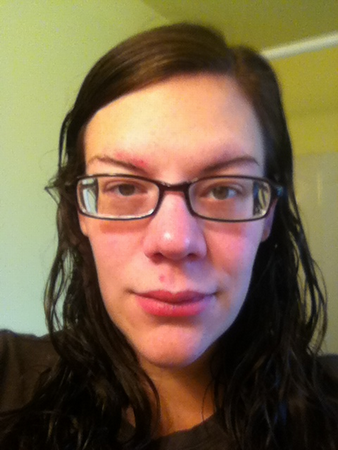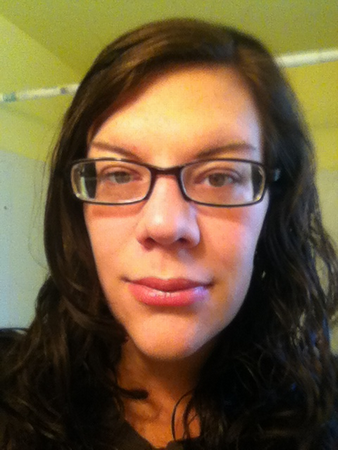 So there you have it. I like this stuff. I might buy more [eventually]. Oh, Rebecca-approved, for sure! (I might need to make a seal of approval for that!)
(product provided for review by BzzAgent and COVERGIRL. Views and opinions are my own, and I was not compensated for this review outside of the product supplied)